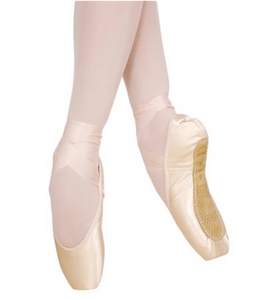 POINTE SHOES BASED ON 2007 LAST
2007 is developed with consideration of anatomic features of the medium width foot with a medium arch with medium or long toes. This unique construction satisfies 90% of ballerinas. Therefore, Nikolay has the biggest part of their pointe shoe models based on the 2007 last. 2007 has a tapered dynamic form. It is one of those models, which creates that elegant classy look of ballet stars.
These shoes have a U-shaped medium vamp , a medium platform. Pointes suit all types of feet and are recommended for dancers who like «GRISHKO 2007», but want a quieter shoe. New, noise-reducing strip on the pointe platform and on the sole under the toes
-New, unique glue with latex to give the box additional elasticity
-New box assembly reducing the length of the stiff part of the vamp slightly
-As original Grishko 2007, these model is also extra light, made with suede machine-stitched sole that provides an easy transition from the demi-pointe to the pointe and back.
-The shoe is distinguished by its perfect balance and placement, outstanding durability, lack of noise and perfect comfort.