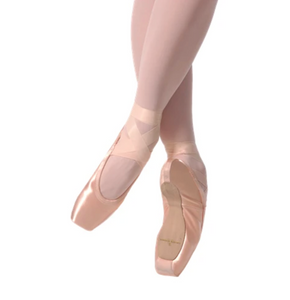 Specify your length, width, box and shank. Gaynor Mindens usually fit one to one and a half sizes longer than your U.S. street shoe size. Please note not every length is available in every model. The box fits the toe and metatarsal area. Please note not every box is available in every combination. Gaynor Minden shanks do not break in or soften, and all are equally durable and long-lasting

*As we transition our pointe shoe production to Europe some shoes will have suede tips while others have satin tips.
*Ribbons and elastic sold separately.
Available: 
Yellow: ExtraFlex
Green: Hard