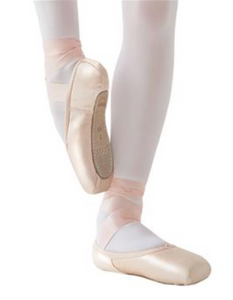 Available in August 2020
Trains the bridge of feet. Transitional style between the exam and novice for the first-year students
PRODUCT BENEFITS:
- lightweight 1/2 box due to special elastic paste and stiff yet flexible sole for sensitive and immature foot.
- Soft brushed cotton inside the shoe and lower heel height are designed for comfortable fit.
- Allows elements of pointe work at the barre.
Recommended after EXAM model for 3-6 months before going On Pointe.
LAST TYPE:
 2007 (The last can be chosen on request)
SHAPE:
 Slightly tapered, soft box
VAMP:
 U-cut, Medium
SOLE:
 Machine-stitched
SIZES:
 0,5 — 5
WIDTH:
 X — XXXXX
SHANK: 
SS
BOX:
 1/2
With elastic side running or elastic drawstring